Cast iron is an alloy of iron with carbon (from 2.14 to 6.67%), which also contains permanent impurities (silicon, manganese, phosphorus and sulfur), and sometimes alloying elements. Cast-iron bathtub is characterized by strength, durability and classic design. Cast-iron bath is quite heavy, but it retains heat perfectly, is resistant to mechanical damage and is durable.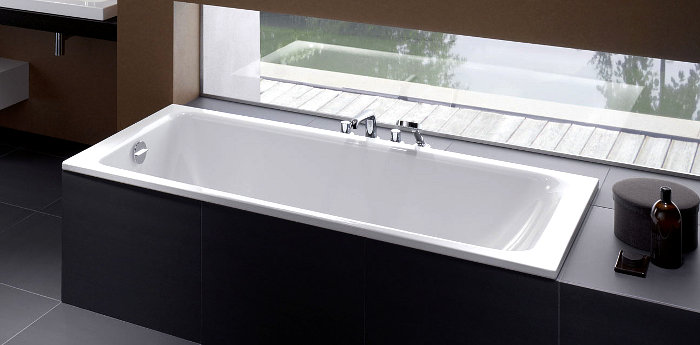 Advantages of cast iron bath:
Cast iron has excellent thermal conductivity, strength, and stiffness, so cast iron baths are strong, durable, and resistant to temperature fluctuations.
It retains heat for a long time, as a result, the water cools down more slowly.
The walls usually have a large cross-section: about 6 or 8 mm. Having an impressive weight, the cast-iron bath is securely held by supports, it does not require auxiliary fasteners during installation. It stands firm, without changing its position, without sagging during operation.
An anti-corrosion coating is applied to the inner side of the cast-iron bath, which allows it to retain its original appearance for a long time.
Enamel has a Shine, it does not leave scratches when using cleaning products.
Ease of cleaning from contamination-these baths are neutral to the action of various chemicals on them, they are well cleaned with plumbing care products.
Cast iron baths do not have pores on their surface, they do not collect dirt.
The cast iron bath does not delaminate and does not crack over time.
Cast-iron baths are valued for their long, almost limitless service life, which is much higher than the service life of baths made of other materials.
The lowest level of noise during water intake.
Disadvantages of cast iron bath:
The bulkiness and massiveness of the cast-iron bath-it weighs about 120 kg, which leads to some problems during delivery and installation.
Because of the non-plastic properties of the cast iron material, only rectangular and oval baths are made.
It is very difficult to restore the damaged enamel surface of a cast-iron bath if you accidentally drop a heavy thing.