Wood is always in fashion. Especially when it comes to interior design.
Today we will show you the coolest options for finishing bathrooms with wood
Wood is a special material that creates a unique atmosphere of comfort and tranquility. And this one would be very useful in the bathroom – a place to relax after a long day, as well as Spa treatments. However, wood in the bathroom, due to its sensitivity to wet environments and temperature changes, was practically not used as a finish until recently. Nevertheless, technologies are developing and improving. After all, they make ships out of wood that are literally in the water all the time, and this is the first material for finishing a bath, so why is the bathroom worse? Nothing-thought the manufacturers and found options for using wood in this room.
Here we see how the popular boiserie finish fits seamlessly into the interior with a modern bathroom.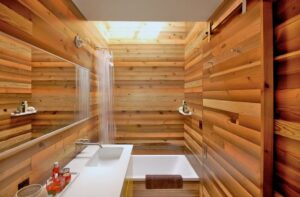 A perfect example of how wood wall decoration can correlate with the floor. There is literally laminate flooring on the wall. This technique is perfect for interior design in the style of minimalism in the bathroom.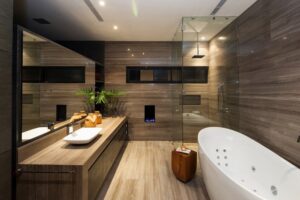 The "parquet" version of wall decoration is very popular now. And what shade to make a tree — everyone's choice.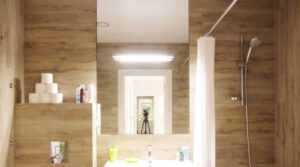 Wood of noble shades is perfect as an interior dominant.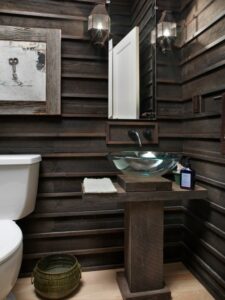 Pros and cons of wood finishing
In addition to its ability to give an atmosphere of comfort, wood in the design of the bathroom has other advantages:
this is one of the most eco-friendly materials, as it was created by nature itself, it is simply not more natural to find;
tactile contact with wood makes a person feel good, which helps to relax on an emotional level;
walking on a wooden floor stimulates blood circulation, which has a healing effect on the entire body;
the aroma of wood also has a positive effect on health, turning a normal bath into a Spa procedure;
wood is durable, which allows you not to worry about the fact that you will have to redo the interior in the next twenty years.
In addition, the wood finish is versatile and can be combined with any style in the interior.
The main disadvantage is still the tree's dislike of high humidity conditions. This disadvantage can be eliminated by varnishing and special protective impregnations, which alone require regular updating. Depending on how close the tree is in contact with moisture, re-treatment will have to be carried out every three to five years. Good ventilation helps to extend the life of wood finishes in the bathroom, and since natural ventilation is usually not enough in homes, the equipment of forced ventilation will require additional costs. And the materials themselves made of natural wood are much more expensive than others.
What kind of wood can be used in the bathroom
First of all, these are exotic breeds for which high humidity is a natural growing condition. We are talking, of course, about tropical trees that have a dense structure and a high oil content. If you want a bathroom made of wood, then hevea or teak wood is a great option. It contains rubber, which is the main rubber, so it has water-repellent properties. Mahogany varieties such as kumaru, iroko, sepele, Paduk and kempas also perform well in operation. But the price is not small.
A more budget — friendly option is to use thermally modified wood. By treating lumber with high temperature under pressure, moisture, resins and lignin are removed from it. This gives the wood increased wear resistance, while maintaining its natural beauty. Birch, pine, ash, and cedar are treated in this way.
And also it is impossible not to mention the king of all trees – oak. Substances that release materials from it have a healing effect, so this breed is not subjected to heat treatment. But here different impregnations are used, which allows the material to be used for bathroom decoration.