Cast stone is an artificial stone that consists of quartz sand, marble chips and polyester resin, as well as gelcoat. Gelcoat is a special composition similar to varnish that is applied to the surface of the bath, giving it a Shine and a pleasant smoothness. Gelcoat has not only decorative and aesthetic qualities, but also protective. For example, it perfectly protects the surface of the bath from moisture and UV light.
Cast marble baths perfectly combine the natural properties and beauty of natural marble, and the freedom of ideas for modeling baths is not limited.
Cast stone baths can be made in different colors, which, along with the original shape, allows you to choose a bath exclusively individually. Among the advantages of such products is high strength and durability.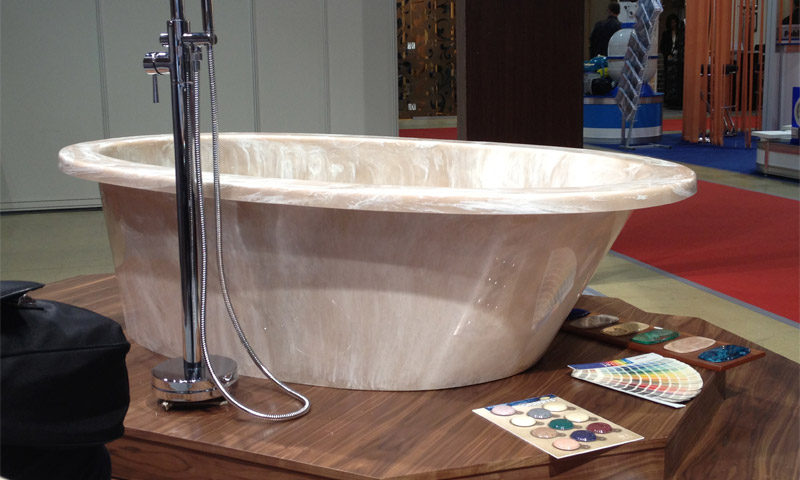 Advantages of a cast stone bath:
Low thermal conductivity.
Resistance to heavy loads, high impact resistance, high wear resistance (abrasion resistance).
Available in various colors, a variety of decorations and a variety of shapes and sizes.
The ability to repair, trim and eliminate various scratches at home, cast stone does not form cracks and chips.
High level of noise absorption when collecting water.
High anti-bacterial characteristics.
There is no radioactive background characteristic of natural stone / marble.
High frost and heat resistance (from-500 Cº to + 900 Cº).
It does not fade, its surface does not lose its gloss.
The service life is more than 10 years.
Disadvantages of a cast stone bath:
The surface is easily scratched and requires careful handling (for example, you can not bathe dogs).
Relatively large weight (about 100 kg).
To avoid unwanted chips on the bath, be extremely careful when transporting it (before final installation in the bathroom).
Cast stone baths should only be cleaned with soap solutions and a soft sponge, excluding the use of abrasive or powdered cleaning agents.