Microcement is an ideal, modern bathroom solution.
Microcement is not afraid of water, mold and fungi. It is used in the manufacture of walls, floors, showers, cast it into the bowls of bathrooms and sinks. It is used to make furniture-countertops, shelves. It is suitable for applying to Underfloor heating. Microcement creates a smooth, slightly velvety surface, warmer to the touch than tiles, non-uniform in color, with streaks that resemble marble. It is seamless. Its surface is easily and simply wiped with a wet sponge. Microcement, like other decorative plasters, is easily applied to curved surfaces.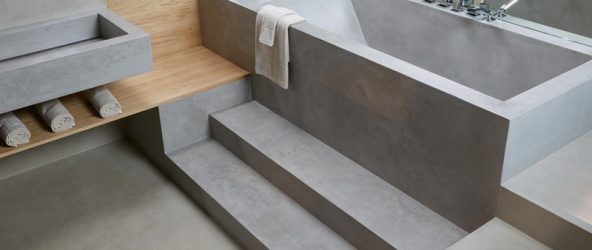 Microcement is easy to join with tiles and mosaics. And even applied over them. Therefore, it is very easy to partially or completely update the boring interior of your bathroom.
A wide range of colors obtained using pigments of natural origin, contributes to the creation of a unique decorative finish in the bathroom. Using a stencil application in a decorative finish, you can create an ornament.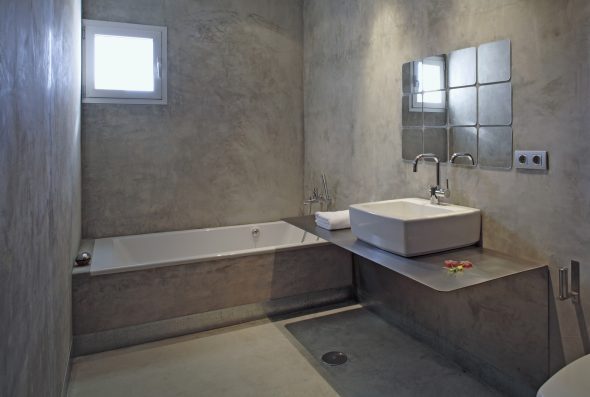 Advantages of using cement in bathroom decoration
Practical and wear-resistant. Microcement is a very strong and reliable material that does not require special care, it does not need to be constantly protected and afraid of chips, as in the case of tiles. It is durable and not whimsical.
High strength. Using microcement in the bathroom is not only beautiful, but also cost-effective. Thanks to its high strength, this material will serve you for decades. It is not afraid of moisture and temperature changes, does not crack and does not crumble. It is easy to combine, for example, with a warm floor.
Hygienic. Finishing the bathroom with micro-cement allows you to avoid such troubles as the appearance of dampness, mold and mildew. The non-porous surface of the material does not allow harmful bacteria and fungi to accumulate on the surface.
High degree of adhesion. Thanks to its excellent physical qualities, micro-concrete adheres to any material. You can use it to finish the walls, floor, bathroom, bathroom, sink, or use it in the apron area in the kitchen.
Universality. The material easily fits into any interior: modern, high-tech, loft, classic. Microcement can take any texture and color.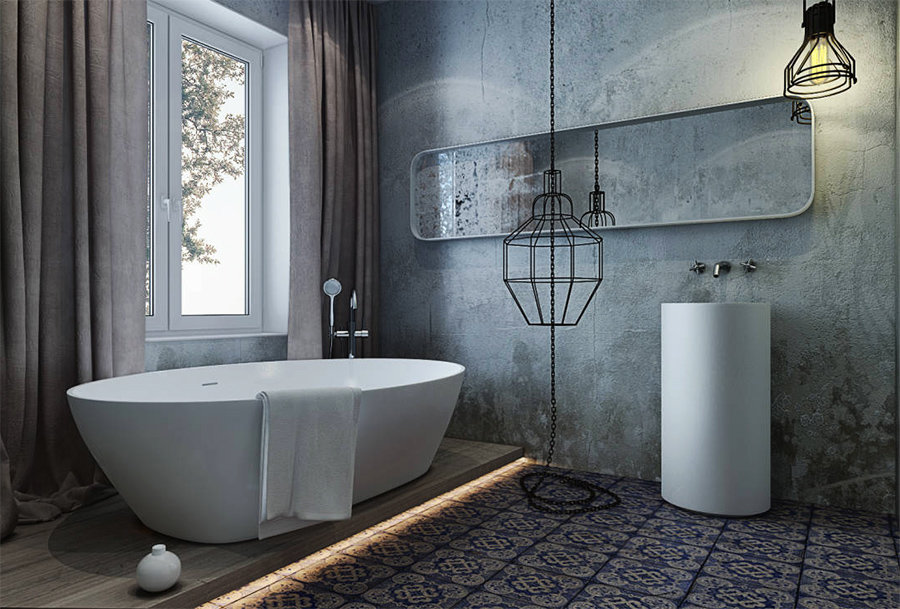 We take care of the microcement in the bathroom
Using micro-concrete in areas with high humidity, such as the kitchen or bathroom, will be the best option. This innovative material is not afraid of high temperatures, mechanical damage, or water. It does not require any care with the help of special tools. It is enough just to wipe it with a cloth or a non-rigid washcloth, soaked in an antibacterial solution or with soap. This method will protect the microcement from the appearance of not only an ugly soap or lime plaque, but also fungal flora.
Microcement does not like rough abrasive materials, so do not RUB it with a hard brush or use aggressive detergents. Otherwise, the walls may be covered with a mesh of microcracks, and this, in turn, can lead to chips and cracks. If there are cracks or chips, then you do not need to redo the entire bathroom, just restore the damaged area.